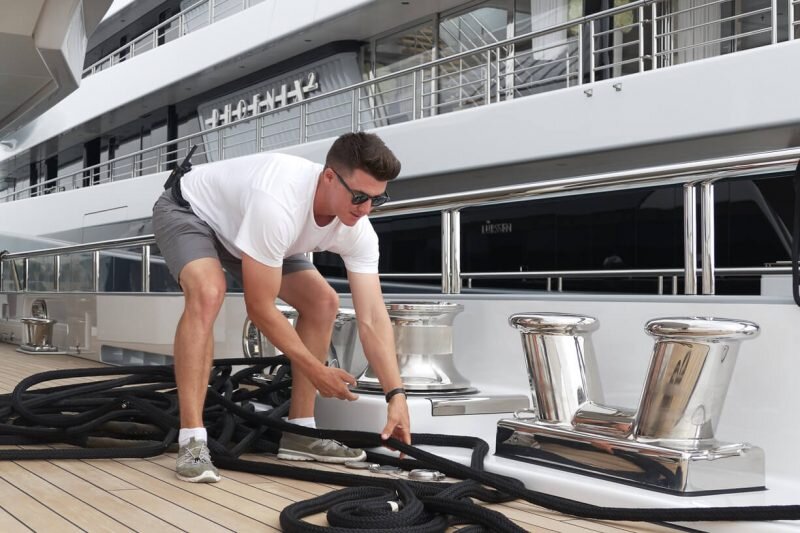 Super Yacht Deckhand Yacht Course
Our recommended courses for those looking to pursue a career as a deckhand in the super yacht industry include:
Once you have completed your STCW course and other basic safety training, you can look to expand your skill set to work on board in the super yacht industry.
Get Onboard Superyacht Academy provides super yacht training courses, RYA training certification, stewardess course and deckhand in Cape Town South Africa.
Completing your deckhand courses prior to looking for your first job, demonstrates to your employers that you are dedicated crew member that understands what is required in order to be successful as an entry level crew member in the super yacht industry. Our industry leading standard of training ensures all our candidates enter the super yacht industry.
The primary duties of a deckhand are shared between the maintenance of the yacht exterior and looking after the guests. Maintenance tasks include painting, filling and fairing as well as 1- and 2-part varnishing jobs, plus all other cleaning, polishing and scrubbing duties. Guest related tasks vary from tender driving, beach set ups, water sports, jet skis, anchoring or manoeuvring of the yacht.
Our combination of deck specific yacht courses will offer the candidate a far better chance of obtaining gainful employment in the industry as a professional Deckhand in the Mediterranean & Caribbean.
All of our courses are run by experienced industry professionals who's passion and knowledge of the industry is shared with the candidates over their four week training program.
Our Deckhand training program is one of our most popular training programs as it includes all the skills and qualifications you need to start your new career. The course starts with STCW Basic Safety Training, VHF Radio and PDSD (for crew with any security role on board).
Need some help preparing your Yacht CV?
Having the perfect CV is the first step when it comes to landing your first job as a Super yacht Deckhand. Head over to our Agency page to download a free template that will help you prepare, format and write your first yachting CV.
Looking for a step-by-step guide on how to get your first job on a yacht?
Download our 54 page "Beginners Guide to Yachting"ebook that explains everything you will need to get started in the yachting industry. From find day work, what the different seasons are, to packing your bags- we cover it all!
Have you completed your ENG1?
All crew who want to work on a Superyacht are required to hold an ENG1 Medical. We recommend you complete the ENG1 Medical before the start of your course, as it confirms you are fit to go to sea.
Contact us for more course information and available dates

Ready to start your yacht career training?