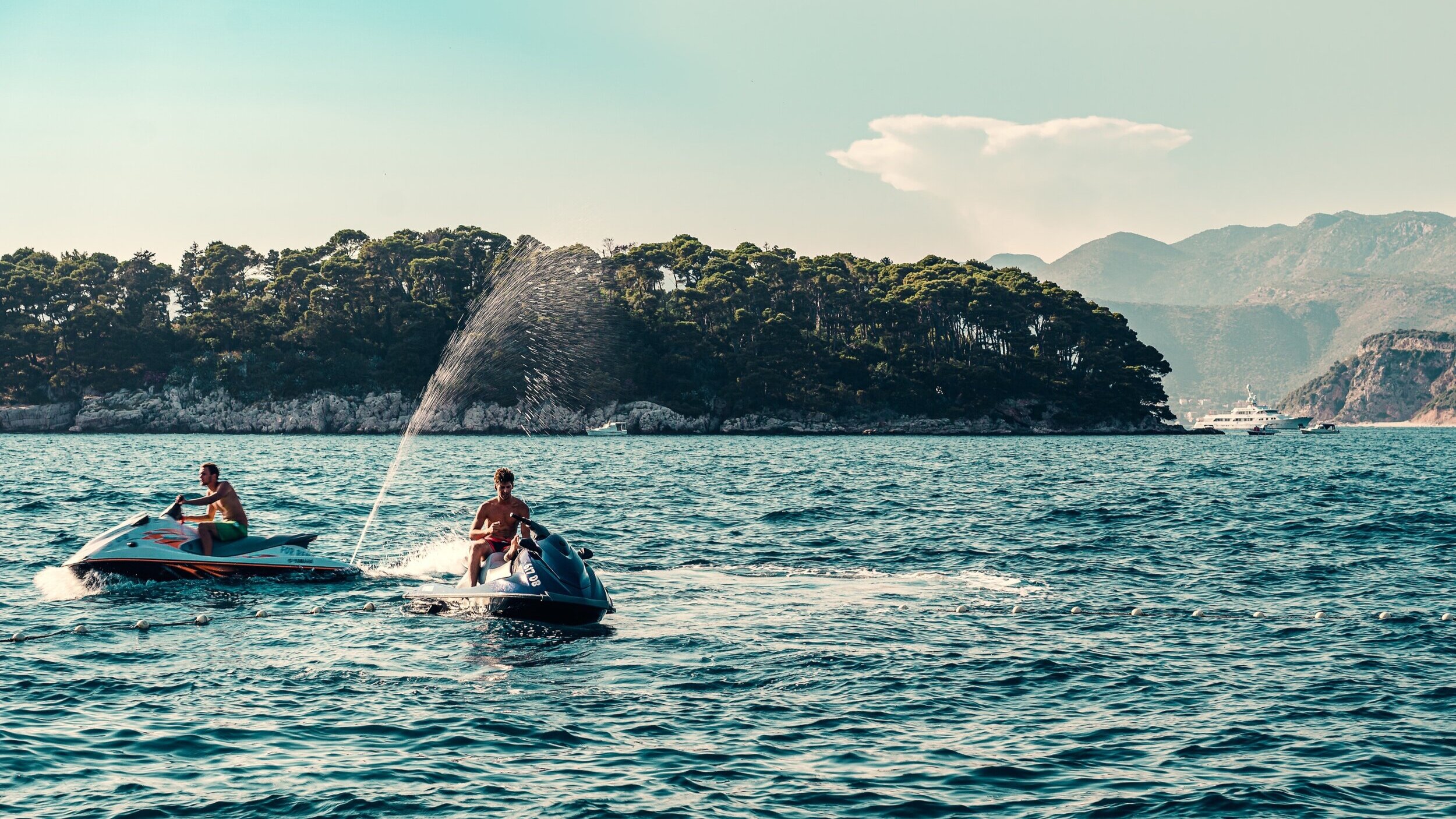 RYA Personal Watercraft Course PWC (Jet Ski)
Personal watercraft can be single-seater machines or can take two or three people. They are fast and exciting, but need to be handled with care.
RYA Powerboat and PWC (Jet Ski) Instructors are in demand within the Superyacht industry and back home in Cape Town. The Super Yachts have a range of watersports toys for the guests. The PWCs (Jet Skis) drivers need a license in many parts of the world.The RYA PWC (Jet Ski) Course is for those wanting to add an extra qualification to their CV or for those wanting to learn how to operate these powerful crafts and legally ride in international waters.
This is a 1 day course
What does the course cover?
Launching & Recovery

Safety on the water

Navigation

High speed Jet Ski handling

Taking care of your Personal Watercraft
The primary duties of a deckhand are shared between the maintenance of the yacht exterior and looking after the guests. Maintenance tasks include painting, filling and fairing as well as 1- and 2-part varnishing jobs, plus all other cleaning, polishing and scrubbing duties. Guest related tasks vary from tender driving, beach set ups, water sports, jet skis, anchoring or manoeuvring of the yacht.
To be successful in the super yacht industry it is essential you receive the correct training specific to the job your wish to apply for. Head over to our Super Yacht Deckhand page to view other recommended training courses.
If you are looking for work as a super yacht stewardess, head over to our Super Yacht Stewardess page to learn about our available courses. Our stewardess package focuses on all the skills required to be a super yacht stewardess and help you understand the high levels of service, professionalism and dedicated duty required for interior yacht crew. Be sure to impress your Chief Stew, Captain or crew agent on your first yacht charter when you demonstrate your competence in the relevant skill sets.
Looking for more information?
Based in Cape Town South Africa, Get Onboard Superyacht Academy facilitates a variety of Superyacht specific courses including the STCW basic safety training. All of our course programs have been specifically designed across all four industry departments, Deck, Interior, Engineering & Chef. Our goal is to provide the most relevant and up to date course selection in order to help you find your ideal position and pave the way for you to work on a yacht.
In addition to our super yacht training courses, our yachting consulting agency provides the ultimate customer service by offering each of our students the opportunity to chat to someone who has actually experienced yacht crew life onboard. Starting out in your job hunt for work on luxury yachts can be really daunting – we know this from personal experience. It's always nice to be able to speak to someone who has been there – we'd love to meet with you for a consultation.
In order to add further value, Our "Beginners Guide to Yachting" training e-book offers you a step by step guide on how to secure your first yachting job. From preparing your yachting CV, what to pack, up to date visa and travel information, day work and dock walking, safety equipment, we've covered it all. Get Onboard has partnered with various other industry professionals to assist our candidates with preparing their yachting CV's, acquiring their Schengen and B1/B2 visas as well as flight bookings and crew house accommodation.

Are you ready to start your super yacht career?