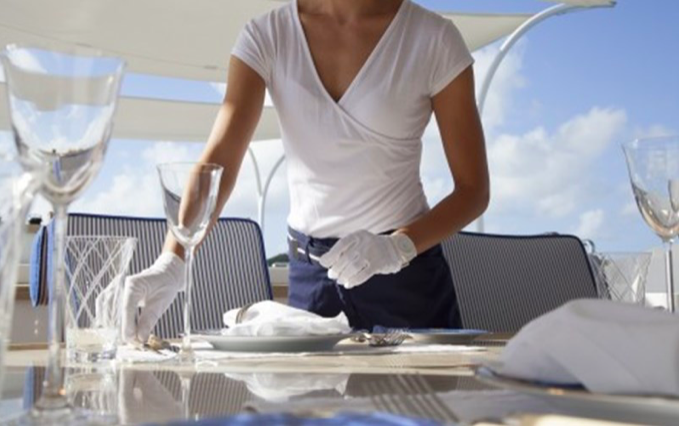 Super Yacht Stewardess Yacht Training
Our recommended courses for those looking to pursue a career as a stewardess in the super yacht industry include:
Once you have completed your STCW course and other basic safety training, you can look to expand your skill set to work on board in the super yacht industry.
The primary task of a Steward or Stewardess onboard is to maintain the interior or the luxury yacht to the highest standard. You will also be required to cater to the needs of yacht owners or charter guests. Service, housekeeping and laundry form the three main departments of the stewardess responsibilities. Food hygiene and safe food preparation are also a major component of working as a stewardess on a super yacht.
Our stewardess training certification is run in Cape Town, South Africa. This is an entry level training course, designed for any crew member that is looking to pursue a career as as stewardess. Combining both practical and theoretical course modules, you will spend time working with actual products used onboard as well as familiarise yourself with processes for when guests are onboard.
This week long yacht course includes the most relevant and up-to-date knowledge of how to succeed as a stewardess. The course focuses all the skills required to be a super yacht stewardess and help you understand the high levels of service, professionalism and dedicated duty required for interior yacht crew. Be sure to impress your Chief Stew on your first yacht charter when you are competent in the relevant skill sets. We offer real-life Superyacht scenarios and detailed yacht processes in order to fully prepare you for life onboard as a super yacht stewardess.
The following topics are covered extensively in the course:
Table setting and Presentation – Layouts, order of service centre piece and flower arranging. Practical skills application on-board a super yacht

Superyacht Laundry Course– Caring for expensive & rare fabrics, removing industry-specific stains, understanding Superyacht laundry equipment & procedures, professional drying & ironing techniques etc.

Food service – spend time on a Superyacht in the V and A Waterfront, working alongside a yacht chef serving real guests.

Wine & Cocktail – Intro to world of wine, tastings, pairings, cocktail blending and service etc.

Beverage Service – Tea, Coffee, Cocktails, Wine, Water

Stewardess CV – Completed CV with professional photo

Interior introduction – Job role, interview process, yachting do's and don'ts, crew contracts, yachting etiquette, checklists, safety etc.
The course fee includes all course materials. Tea, coffee, snacks provided throughout the course
Need some help preparing your Yacht CV?
Having the perfect CV is the first step when it comes to landing your first job as a Super yacht Deckhand. Head over to our Agency page to download a free template that will help you prepare, format and write your first yachting CV.
Looking for a step-by-step guide on how to get your first job on a yacht?
Download our 54 page "Beginners Guide to Yachting"ebook that explains everything you will need to get started in the yachting industry. From find day work, what the different seasons are, to packing your bags- we cover it all!
Have you completed your ENG1?
All crew who want to work on a Superyacht are required to hold an ENG1 Medical. We recommend you complete the ENG1 Medical before the start of your course, as it confirms you are fit to go to sea.
Contact us for more course information and available dates

Ready to start your super yacht career training?